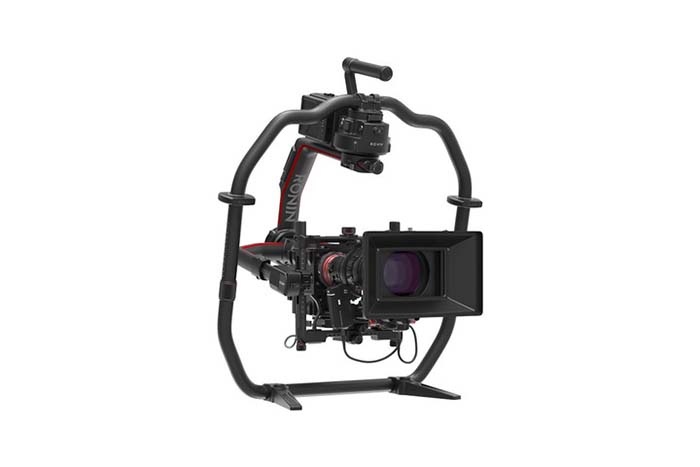 DJI Ronin 2
The Ronin 2 is compatible with a large number of cameras, including the ARRI Alexa Mini, the RED Dragon, the ARRI Alexa XT, the Blackmagic URSA mini and the Sony FS7.
The maximum horizontal length between the base of the camera support and the axis of rotation should not exceed 245 mm, the width of the camera should not exceed 180 mm and the height should not exceed 165 mm.
Currently, we have Joystick and 2-axis Wheels
Mechanical & electrical characteristics
Operating Temperature: 300 mA (@22,8 V)

Dynamic current: 500 mA (@22,8 V)

Locked motor current: Max 15 A (@22,8 V)
-20 to 50 ºC (-4 to 122 ºF)
Including handle bar: 6,4 kg (14 lbs)

Excluding handle bar: 5 kg (11 lbs)
Excluding handle bar: 350 mm (W) x 416 mm (D) x 530 mm (H)

Including handle bar: 630 mm (W) x 416 mm (D) x 720 mm (H)
8 hours // 2,5 hours (when powering gimbal, camera and accessories at the same time)
Maximum depth from the center of gravity on camera base plate: 250 mm

Maximum height measured from top of the camera base plate: 190 mm
Accessory power connections:
14,4 V x 4 Camera Cage (Combined 8 A)

14,4 V x 2 Pan Motor (Combined 4 A)
Load weight (reference value):
Maximum controlled rotation speed :
Mechanical endpoint range:
Pan axis control: 360° continuous rotation

Tilt axis control: ±135°/
Controlled rotation range:
Pan axis control: 360° continuous rotation

Tilt axis control: ±45º to ±135°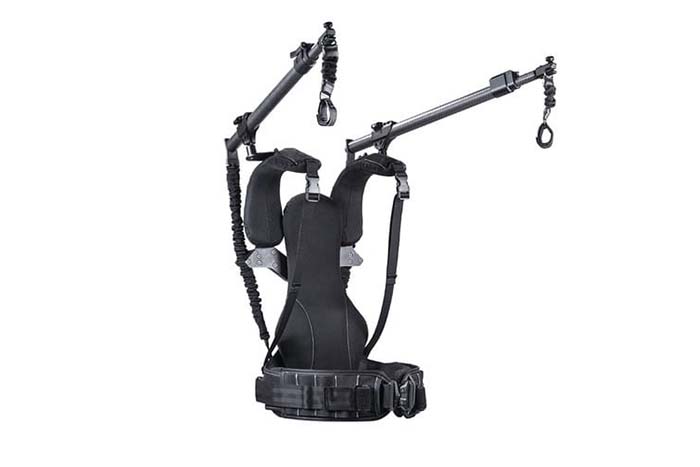 Ready Rig GS + Proarm Kit for DJI Ronin
The double damping of the Ready Rig GS on each rod makes a more stable image possible and adapts to the way the operators are walking.
The Ready Rig GS + ProArms alleviates the burden of operating heavy camera packages by redistributing weight away from the operator's arms, shoulders and back. This vest for the Ronin offers perfect mobility for filming indoors or moving.
Technical characteristics
Vertical axis stabilization

Load Range: 1 - 18 kg (1 - 40 lbs)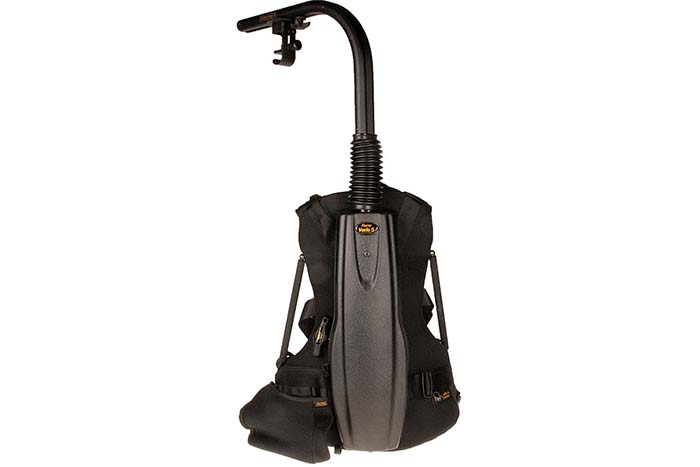 Easyrig
The Easyrig is used to suspend the camera. Relieve your back by transferring most of the weight of the camera from your shoulder to your hips.
It offers mobility, agility and speed in handheld camera when you are filming over your shoulder, at hip height or at knee height.
Technical characteristics
Suspension line length: 88 cm

- Mod. 2.5 (400N): 8,5-12 kg

- Mod. 2.5 (700/35): 16,5-22 kg

- Mod. 3.0 (850N): 21-27,5 kg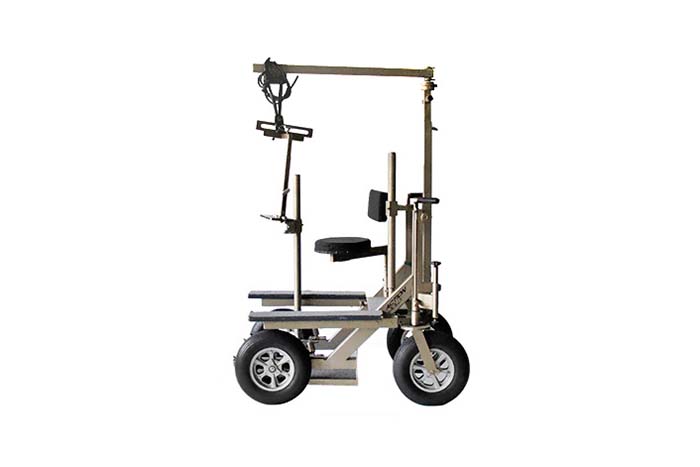 Action Dolly
The Action Dolly gives us the possibility of making 360º turns and on its own axis.
It is used to work on a tripod, in steady-cam or in handheld camera.
Technical characteristics
Maximum/minimum Length: 122/110 cm

Maximum/minimum Width: 89/51 cm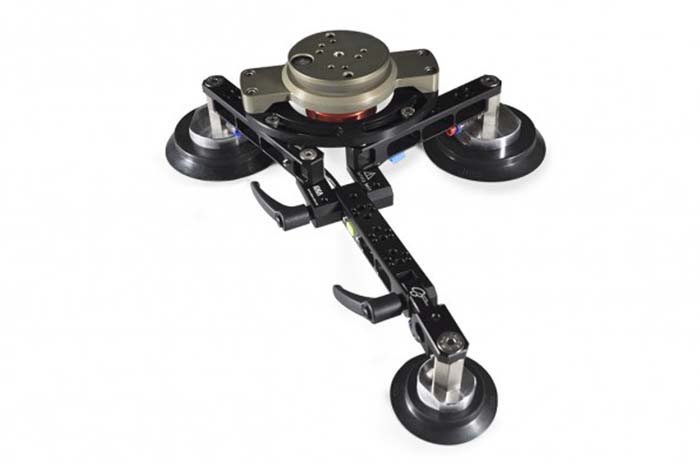 Vacumount
The Vacumount allows cameras, gimbals or more accessories to be mounted on flat surfaces such as cars, windows or walls.
The three suction cups allow a maximum load capacity of 100 kg / 220 lbs, depending on the use.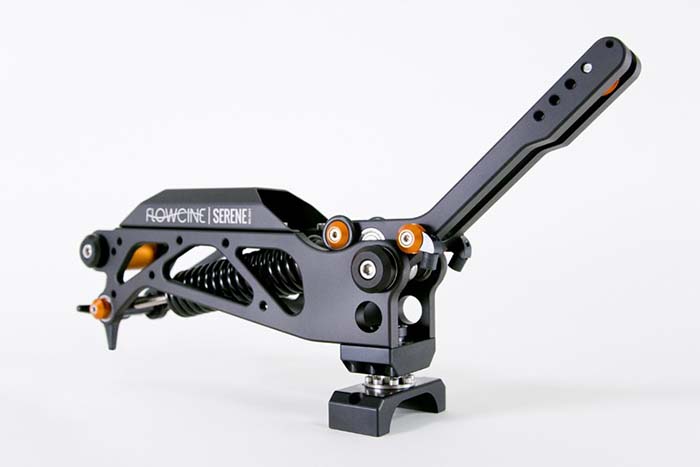 Serene Flowcine
The Serene is an accessory that installed at the end of an Easyrig stabilizes the vibrations and motion errors in the vertical axis produced when walking or running.
It also allows you to vary from high to low Easyrig in a more secure and stable way.
It accepts a load range between 6 and 19.5 kg.
It also works really well for gimbal rigs like the Freefly MoVI, DJI Ronin, and most other leading gimbal rigs.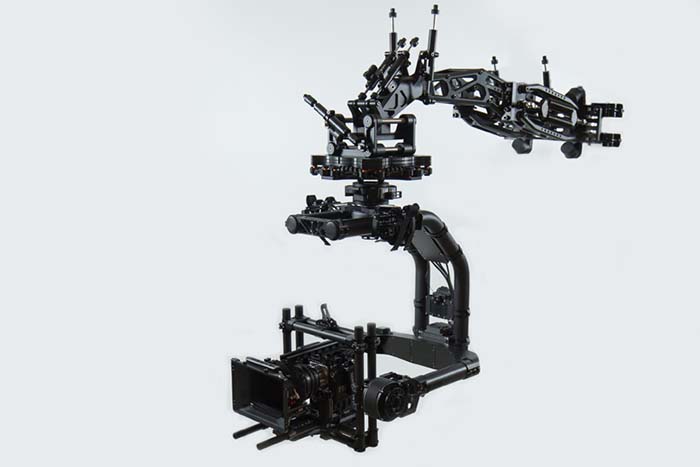 Dual Black ARM Flowcine
The Dual Black is a dampening system that serves to stabilize possible roll and tilt errors, as well as vertical movement and vibrations. It is designed to accommodate large hot heads and gimbals, such as the Freefly MoVI XL or the DJI Ronin 2, for example, and it takes weights up to 64 kg / 141 lb.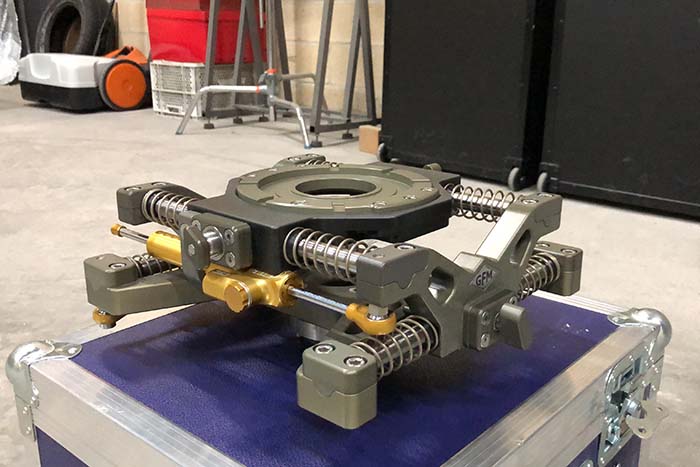 Technical characteristics
Weight: Up to 9 kg / 20 lbs

Payload: Up to 85 kg / 189 lbs

Temp Range: -20 to 50 ºC / -4 to 122 ºF

Dimensions: 43 x 40 x 14,5 cm / 13" x 16" x 6"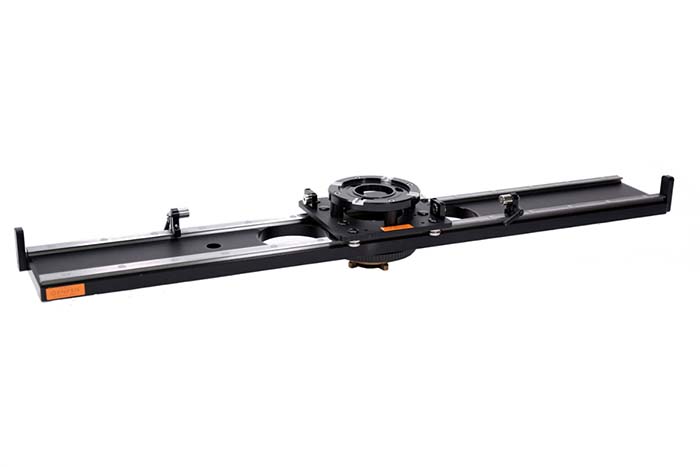 Slider Ronford-Baker 35" and 48"
Technical characteristics
Slider Ronford-Baker 35":
Dimensions: 93 x 25 x 15 cm
Slider Ronford-Baker 48":
Dimensions: 125 x 25 x 15 cm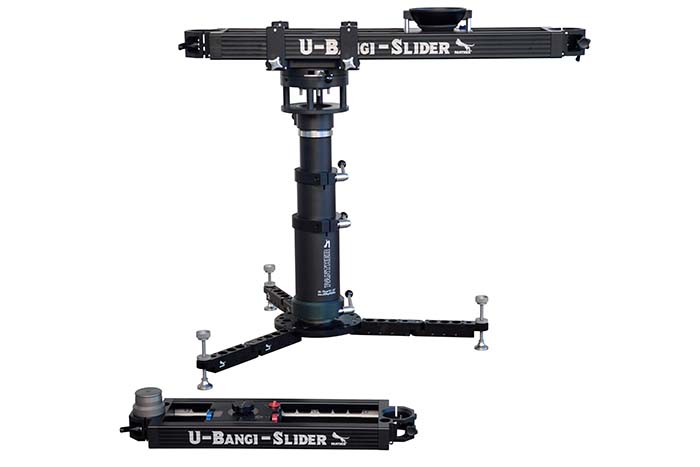 90 cm for dollies + tripods

140 cm for dollies + tripods